It is exciting to announce that I will be teaching at Karen Hillman's Beauty in Blue event at Stacy Seely's ranch in Texas!
Crafting these birdcage angels for the holiday themed Snowbird's Song has been so much fun, that I thought I'd use the idea to make a springtime, fairy version in shades of blue for Karen's gathering.
She is now "Blue Bonnet Belle".
A few years ago, my Sissy, Randy, and I were lucky enough to be invited to an event  at Stacy's with Karen.  Oh my, what a lovely spot!  And amazing food!  It is a big slumber party, with gourmet food and lots of special attention, plus shopping at the Canton Flea AND crafting?
Yee haw, what a shindig! (Hopefully that sounded Texan?)
If you would like to join us in April, here is Karen's info about the party.  See you there?
ABOUT THIS all inclusive Art Retreat gathering FOR creative women
Karen Hillman of Cozy Castle Events invites you to join her, deep in the heart of Texas for this all-inclusive, creative, and inspiring weekend. This will be the third "Beauty in Blue" retreat presented by Karen at Whitworth Ranch Retreat. It is a celebration of Spring themed in shades of blue, inspired by the Texas state flower, the Bluebonnet. Karen strives to make each class or event a beautiful, detailed, and unforgettable experience.
Our home for the weekend is The Whitworth Ranch Retreat, a full service shabby chic art retreat located about 45 minutes outside of Dallas. (book your air travel into Dallas Fort Worth Airport). Stacy Seely is our chef and hostess at this wonderful retreat, which is a working Texas cattle ranch! Visit Whitworth Ranch Retreat to learn more about this exclusive retreat.
This event includes your accommodations, ten meals, three gorgeous art projects, Champagne party and personal portrait in the bluebonnets, Canton Flea market and Mineola shopping adventures, and more.
This is a weekend escape for creative-minded women who enjoy and thrive being in a group setting. The only rules are to leave the real world behind you and relax, escape, and create in this positive and upbeat atmosphere. The meals have been chosen according to the theme of this weekend, and we will have salad options available, but food selections have been pre planned therefore we can not accommodate dietary restrictions.
Registration Information
This is an all-inclusive event, and the cost covers your accommodations, meals, and instructed art projects.
The total cost is $775; at least half must be paid to reserve your spot with the remaining balance due by March 1st, 2020. PLEASE NOTE: A deposit secures your spot for this event and is NON-REFUNDABLE. Should you need to cancel, an effort will be made to find a replacement to fill your spot, but we cannot guarantee this. Once you are registered, you will receive paperwork to complete and return to Karen by email.
Click here to register on-line!
If you wish to pay by check, make checks payable to Karen Hillman Designs and mail to:
233 West Rich Avenue
DeLand, FL 32720
Beauty In Blue Art Retreat
Scurry, Texas (near Dallas)
April 1-5th 2020
$775—all Inclusive!
Look what we've got planned! Attendees will
receive a detailed itinerary and supply list
once registered.
Wednesday, April 1st Arrival 4 PM
6:30 Dinner
7:30 Hand Coloring Portrait Demonstration
with Karen Hillman
Thursday, April 2nd
Continental Breakfast
Canton Flea Market Shopping Adventure
Dinner
Chambray Shirt Design Class with Karen Hillman
Friday, April 3rd
Breakfast, Lunch and Dinner at the retreat
Happy Hour Champagne Party in the
bluebonnet field and portraits
with Jennifer Hayslip
Completion of Chambray Shirt
"All that Glitters" embellished picture frame
with Karen Hillman
Saturday, April 4th
Breakfast
Town of Minneola shopping day
Lunch at Southern Fried Restaurant
Dinner
"Blue Bonnet Belle "Class with Karla Nathan
Sunday, April 5th
Farewell Breakfast
Three published artists will lead you in creating special keepsake projects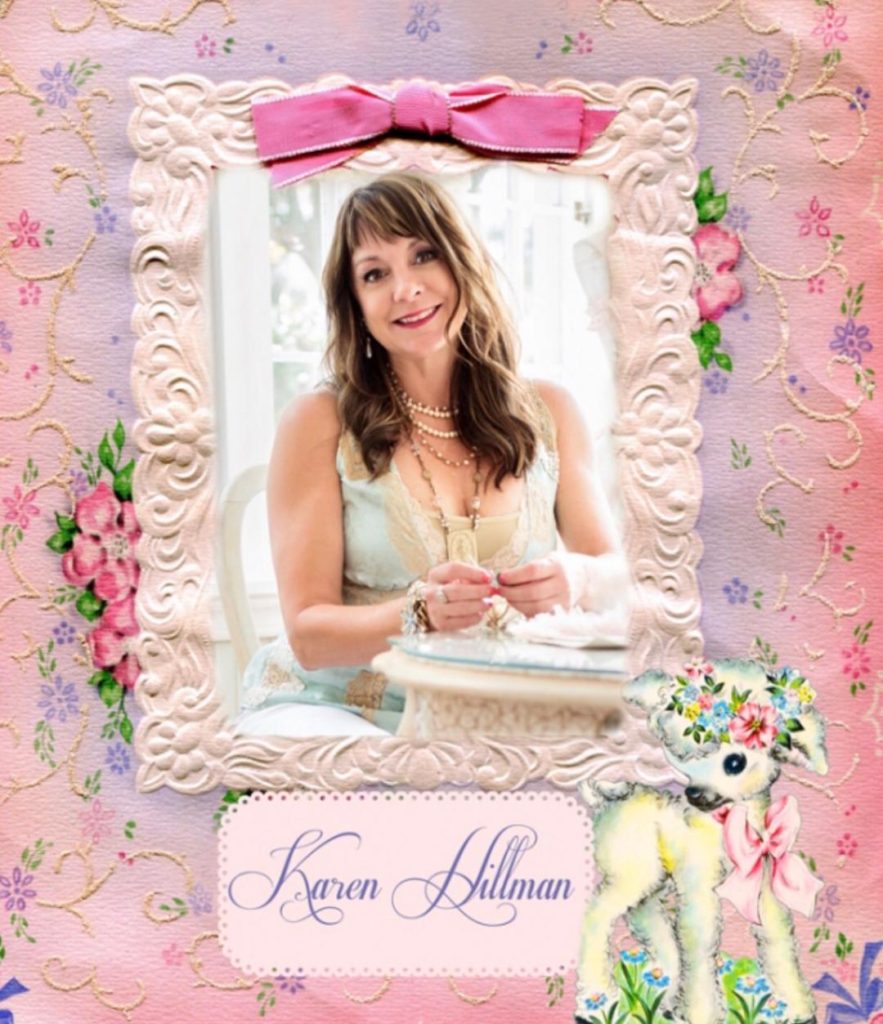 Karen Paige Hillman will give a demonstration of the timeless art of hand-colored black and white portraits. Also, bring along a blue chambray shirt, and Karen will help you design and embellish it into a whole new creation using lace, trims, and unique textiles. Each attendee will also create an "All That Glitters" 5x7 picture frame using rhinestone findings, vintage bling, and Swarovski crystals. Learn more about Karen's art, classes, and events on her website, thecozycastle.com
Published photographer and artist Jennifer Hayslip will work her portrait magic among the Texas Bluebonnets! Bring along a special outfit for your personal photo. Check out Jennifer's fanciful website, jenniferhayslip.com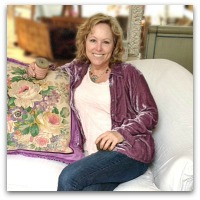 And the amazing Karla Nathan of Karla's Cottage will help you bring to life your own beautiful Bluebonnet Belle in shades of blue and white! View Karla's incredible studio and art on her website, karlascottage.typepad.com